Inner Circle Ball
Don't miss the 2015 Inner Circle Harvest Masquerade Ball! We will celebrate the winery's 20th anniversary with an evening of dancing, entertainment and dinner, accompanied by an exciting selection of Jarvis Estate wines. This exciting black tie event is only available to Inner Circle members and happens only once, every other year!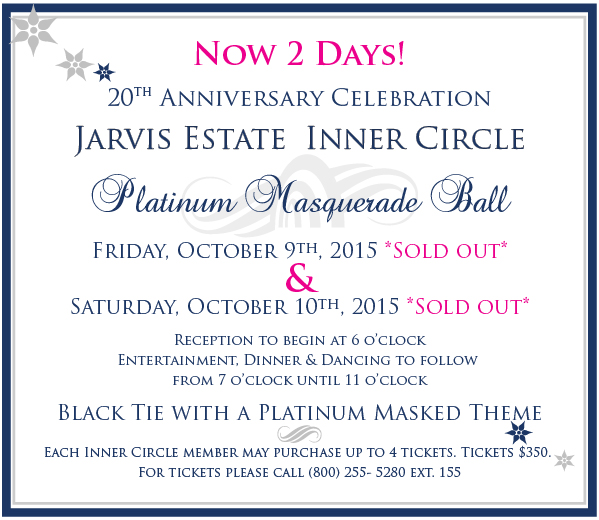 Seating is limited and this event sells out every year. Call early to reserve tickets.
Suggested Accommodations*
Westin Versa Napa (in Napa, 6 miles from Jarvis) - Rooms available
Reservations: 888-627-7169
Jarvis has blocked off rooms under JARVIS ESTATE that are available if you provide the Westin with Confirmation No. 871417930. Reservations should be made directly with the hotel, but please feel free to call us if you have any questions.
Andaz Napa (in downtown Napa, 7 miles from Jarvis) - Rooms available
Reservations: 707-687-1234
Hotel Yountville (in Yountville, 12 miles from Jarvis) - Hotel fully booked
Reservations: 888-944-2885
Auberge du Soleil (in Rutherford, 20 miles from Jarvis) - Rooms very limited
Reservations: 707-963-1211
*As of 07/24/15 the hotels listed have availability for the October 10th weekend, unless otherwise indicated.