October 26th, 2010
Merlot Reserve 2007 - First Release of a Merlot Reserve!
---
Dear Wine Friends,
     We are excited to announce the first release of the our RESERVE Merlot! It's already received a GOLD MEDAL "Exceptional" 95 points from the Beverage Testing Institute. Each year we pick each zone separately just when it is at the maximum potential. In 2007 the top eleven rows of grapes on our Tailings Vineyard, on the steepest and most shallow soils on the estate, were kept separate for this wine. Year after year these rows naturally struggle and produce the smallest berries with the most intense flavors. These are the berries that made this Reserve Merlot. The 2007 vintage is the first Reserve Merlot at Jarvis.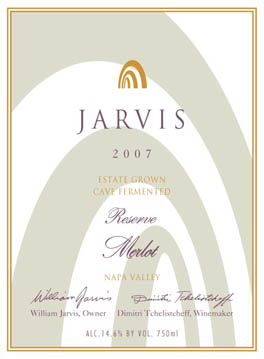 Only when the winemaker decides that the wine is extraordinary does it get the title of "reserve". This wine is somewhat bigger in body than our usual Merlots and offers excellent balance with intense flavors. It is 100% Merlot, no blending desired. It was cave fermented, aged 20 months in new French oak and bottled unfiltered and unfined. Enjoy this wine today or cellar it and enjoy it through 2018!
---