April 15th, 2012
Spring 2012 Winery Notes
---

WINERY NOTES ~ SPRING 2012

This year's Harvest Celebration
Includes "Wine Futures"!


There is something our winery has always been missing and that is the opportunity to purchase "wine futures" which is so popular in the Bordeaux wine market.
After many requests over the years we have now come up with just such a program that permits our Inner Circle members, once a year, to do a barrel tasting and select "wine futures" for purchase!

The way it works, starting with this year's Harvest Tasting on October 12th, Inner Circle members can do barrel tasting of different wine and purchase a case or more of their favorite wine for delivery about a year later. They will pay for the wine at the current price and profit from any increase in prices before the wine's release. See the mechanics of buying wine futures below.

 

 
Mechanics of New Wine "Futures" Program
 Popularized by the very important wine futures sales in Bordeaux, we have had several requests for the purchase of wine futures by our customers. Here are the features of our new plan.


1. Exclusive to the Inner Circle members.

2. Wine futures are sold at the existing price for that varietal.

3. The finished wine is shipped to the owner customer in about one year, which would be after bottling and 6 months bottle shock.

   The futures customer would be getting the wine about two years ahead of our normal release date so when it is released at possibly a higher price, the buyer would have received a good deal. But if the release price should be less than the futures price paid, the buyer is refunded the difference.
4. The minimum quantity of futures purchases is one case of wine a 6-750ml case.

5. The futures sale takes place on the day of the Harvest Tasting and is tied in with the barrel tasting that day.

   It is an exclusive event just lie the very important Bordeaux futures tastings. Inner Circle members unable to attend will have a short period to purchase, subject to availability.

6. This year's wines for barrel tastings and for the futures program are:

          2010 Cabernet Sauvignon
          2010 Cabernet Franc
         2010 Merlot Reserve

7. To make purchasing very simple, the purchaser does the tasting and then receives a small printed chit for each case they wish to purchase. These chits are taken to the selling table where the purchase is finalized.


New Releases

Jarvis 2010 Tempranillo


| | |
| --- | --- |
| Jarvis Tempranillo 2010 is a cheerful wine; it greets you with its deep violet-black color and robust aromas of cherries. It is one of the most food-friendly wines - a perfect choice to serve with pastas, vegetables and light meats.The Spanish word for Tempranillo, means "early" and true to its name, it is the first of our red varieties to ripen - and also a wine that sells out every year -  so make sure your get your early. | |
This year, it is also available in half bottles for that time when you want to just try it or have a glass with your dinner. This wine was aged in French Haute Futaie oak barrels for 12 months and is best enjoyed from its youth six years of age.


$39 (375ml Half-bottle)  -  $70 (750ml Full-bottle)

Jarvis 2008 Merlot
Before bottling, the 2008 vintage was aged 22 months in new French Haute Futaie oak, allowing the wine to integrate its black cherry and spice flavor characteristics into a wine that is especially food-friendly. And for those occasions when a smaller bottle is just right we also have a 375ml half-bottle.

Steve Heimoff, Wine Critic - Wine Enthusiast says "Credit this Merlot for sheer enjoyability. It defines Merlot as the soft, drink-me-now Bordeaux red wine, full-bodied yet instantly likeable and made from 100% Merlot. It is extraordinarily rich in cherry fruit while its 100% new French oak barrels adds a deft touch of buttered toast. The tannins are gently sweet and complex. This flashy, fleshy wine is great now and will hold and evolve in the bottle for at least six years." 93 points Wine Enthusiast.
$50 (375ml Half-bottle)  -  $90 (750ml Full-bottle)

Two Canadian Honkers make the Jarvis ponds
this year's nesting home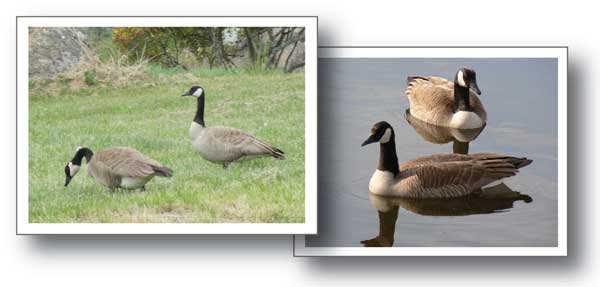 There two visitors have been basking in the sun, swimming in the ponds and greeting guests here at the Jarvis Estate for about two months now. Their black head and neck with a white "chinstrap" distinguish these Canadian Honkers and although they are named for Canada, Canada geese are found all over North America at various times of the year. These geese are adaptable to many habitats and may thrive wherever grasses, grains or berries are available. In the summer, they make their homes throughout most of Canada, Alaska and the north United States.

These migratory birds remain in flocks year-round, except while nesting. Canadian Honkers mate for life, and since these two have decided to make Jarvis their home, even if it's not a permanent residence, we're hoping that you, visitors, will come up with names for this pair. The male is larger than the female. If you have any suggestions, let us know. We'll post the choices along with your names on Facebook. So stop by the winery, enjoy a tour and tasting, and say "Hi" to our new visitors!


Jarvis Winery, Double Gold Medal winner in
China Wine Awards


| | |
| --- | --- |
| William Jarvis interviewed in Hong Kong. Speaking of the two Gold Medlas, William Jarvis starts out by saying, "We find it fun to relate to the Chinese culture and the Chinese market." Watch the short video of this interview on Jarvis website, www.jarviswines.com/news_events   | |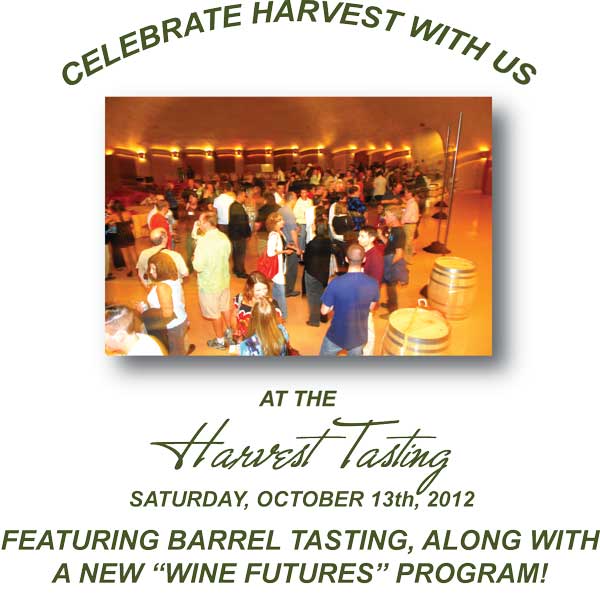 Help celebrate harvest this year! Enjoy current releases, library wines, barrel tastings and, after many requests, the opportunity to purchase wine futures.

Spend the afternoon enjoying wine, tapas and music, As guests of Leticia and William Jarvis, Inner Circle members receive two complimentary tickets and may purchase additional tickets at a special rate of $50 per person. Admission tickets are $80 per person.


---