Merlot
Merlot is a varietal that does very well on the gentle, sloping vineyards of Jarvis Estate, producing a highly anticipated wine. Our 100% Merlot is so desired, it is often our first wine to sell out each vintage. Aged a minimum of 18 months in new French oak barrels and then cave-aged to perfection, the wine is ready to enjoy upon release.
Our Merlot 2012 is 100% Merlot! Each year we set aside a select portion of Merlot to be bottled on its own as a varietal wine, which today has become one of the most sought after Jarvis wines.
Before bottling, the 2012 vintage was aged 18 months in new French Haute Futaie oak, which allowed the wine to integrate its plum, black cherry and spice flavor characteristics into a wine that is especially food friendly.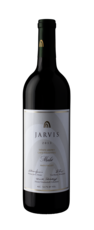 ---