Merlot
Merlot is a varietal that does very well on the gentle, sloping vineyards of Jarvis Estate, producing a highly anticipated wine. Our 100% Merlot is so desired, it is often our first wine to sell out each vintage. Aged a minimum of 18 months in new French oak barrels and then cave-aged to perfection, the wine is ready to enjoy upon release.
Merlot, with its flavors of cassis and black cherry, accompanied by soft tannins and silky mouth feel, stands out as a very easy drinking wine.
Before bottling, the 2013 vintage was aged 19 months in new French Haute Futaie oak, which allowed the wine to integrate its plum, black cherry and spice flavor characteristics into a wine that is especially food friendly. It was bottled unfined and unfiltered delivering these delightful flavors intertwined with a hint of toasty vanilla on the finish. This wine was cave aged and was then released when our winemaker determined it was ready for full enjoyment. Best to consume five to ten years from the vintage date.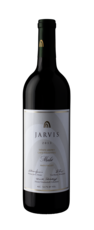 ---