Estate Vineyards
Location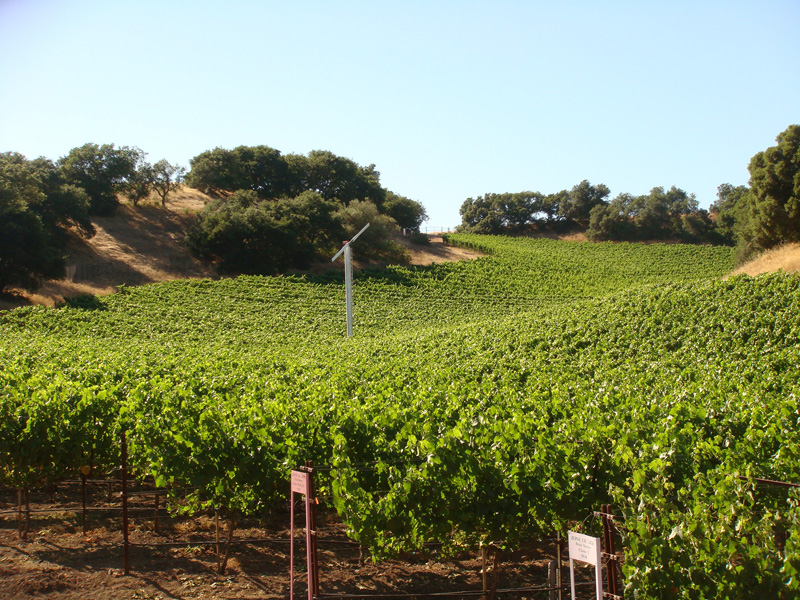 All Jarvis wines are produced from estate vineyards, located high above the city of Napa, in the beautifully rugged mountains between Mt. George and Milliken Canyon at the southeastern end of the Napa Valley. The vineyards are planted in gently sloping meadows one thousand feet above the valley floor. As the cool maritime air passes over the Carneros flats and begins flowing into the valley, it falls about seven degrees in temperature for the thousand feet of vertical rise. As such, our vineyards tend to be cooler by several degrees than the famous Carneros region! These cooler temperatures allow a long "hang time," which permits a long, slow fruit maturation for maximum flavor and concentration at harvest.
Varietal Plantings
Variety

Vineyard

Clone

Acres

Planting Date

Current Rootstock

Chardonnay

Tailings Vineyard

Wente 2A

2.37

1994

3309

Tailings Vineyard

Wente 2A

0.57

1994

SO4

Finch Hollow Vineyard

Wente 2A

4.71

2008

SO4

Cabernet Sauvignon

Lake Leticia Vineyard

INRA 5197

4.9

1997

3309

Lake William Vineyard

Lake William Vineyard

INRA 5197

#7

7.82

0.45

1997

1991

SO4

Teleki 5C

Hillside Vineyard

INRA 5197

4.45

1994

SO4

Cabernet Franc

Lake William Vineyard

#1

4.7

1997

101-14

Merlot

Tailings Vineyard

D-6

1.77

1994

3309

Lake William Vineyard

D-6

2.15

1994

3309

Petit Verdot

Tailings Vineyard

#2

0.72

1994

SO4

Tempranillo

Lake William Vineyard

#2

1.02

2005

101-14

57 Varieties

Experimental

Each vine different

.10

1994

SO4
*The Lake vineyards are so designated because these vineyards are in the nightly land breeze patterns of rather significant lakes on the estate. One vineyard area is directly influenced by Lake William breezes and the other by Lake Leticia (the two lakes being named after the owners).

Soil
The vines are planted in well drained rocky soils, full of minerals of volcanic origins. With soil depths of only two and one-half to four feet, the vines are simply not capable of producing the high yields of some of the valley floor vineyards. Unique in its development, one of the Jarvis Estate vineyards was developed utilizing the cave tailings! First, we removed the topsoil from the valley, layered down the tailings and later topped with a mixture of the tailings and the topsoil that had been stock-piled. The big advantage of this laborious technique is that we could set the soil depth to our desired two feet and develop a hard pan below the soil for drainage between layers.
Clones
Great effort was made to select clones which produce small berries. Small berries with their greater percentage of skin (where the color and flavors are developed) to juice ratios significantly enhances the intensity of the wine.
Vine Spacing
The spacing for the shallow soils in our mountain vineyards is 7' x 11', or only 566 vines per acre. This spacing is unlike many vineyards which plant more than 2000 vines per acre in order to control vegetal vigor.
Planting & Trellising
Balanced sun exposure for optimum ripening is the basis of both our planting and trellising methods. Row orientation was chosen to be magnetic North which, due to Napa's 17-degree easterly declination, favors the morning sun exposure over the afternoon sun occurring during the hotter part of the day. This helps to achieve uniform ripening on two sides.
Most of the vines are trellised on an Extended Lyre divided canopy system (named after the ancient musical instrument). By supporting the canopy in two vertical planes, the grapes receive both morning and afternoon light. This eliminates any possibility of green or vegetative flavor, and also allows the grapes to obtain great color.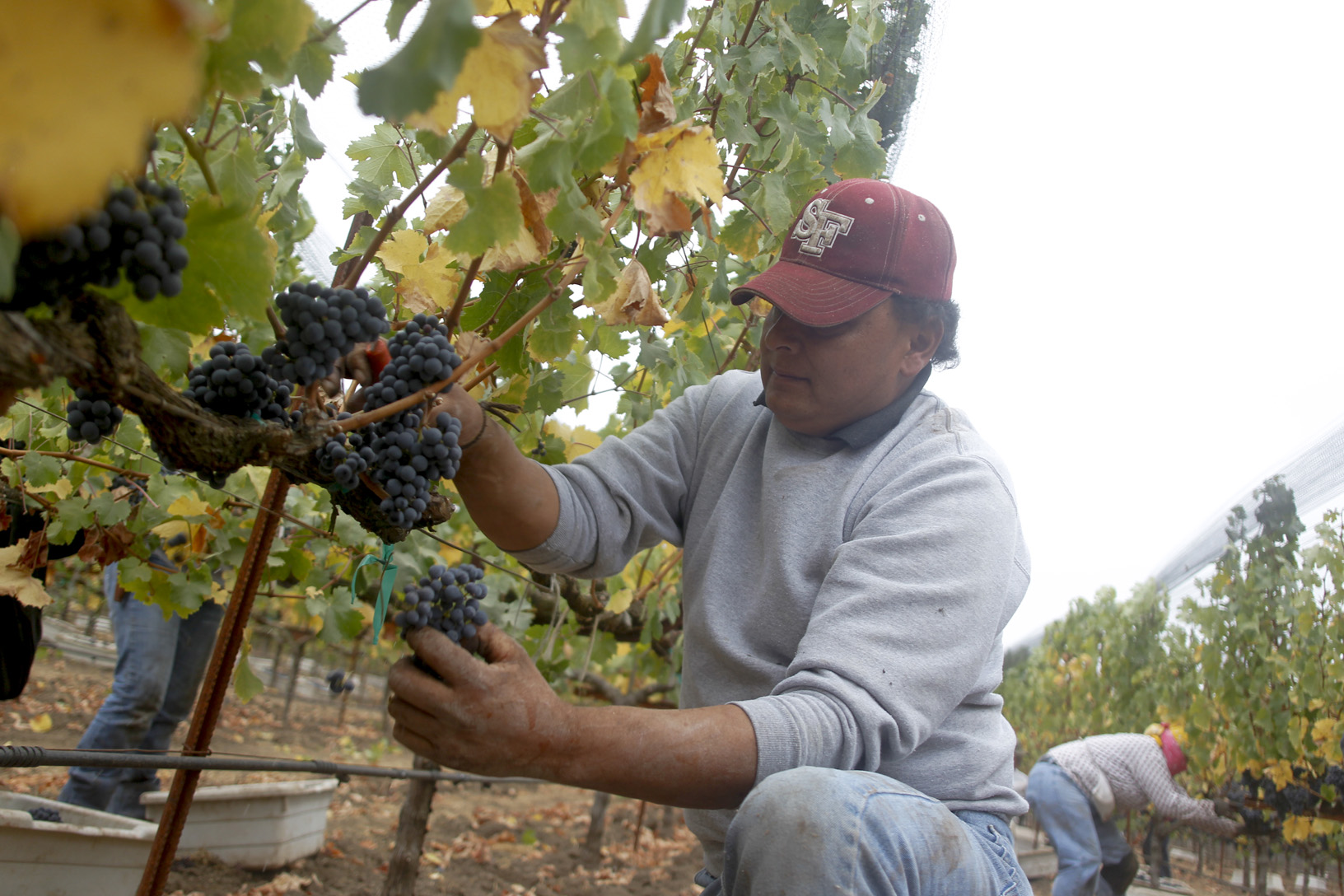 In some soils we use a Geneva Double Curtain trellising system. This system is used to achieve the smaller berries that come from less vigorous vines. The small berries have a higher skin to juice ratio, and since the flavor and color of the wine comes from the skins, the result is a more full bodied wine.
"Every aspect of grape growing and winemaking has been fundamentally questioned and re-examined in recent years, and I have been a very serious student of these world-wide discussions. Among these issues are planting density and canopy management; how to achieve a harmonious balance between the leaves and the roots to produce perfectly ripe grapes." – William Jarvis
Leaf Removal
Because of our advanced canopy construction, leaf removal is less critical in Jarvis Estate vineyards than in vineyards employing other style canopies. However, when we do remove leaves, it is done in order to achieve the final essential sun exposure for our grape clusters.
Crop Thinning
A most important element in the Jarvis Estate vineyard management is "crop thinning". Even though this technique involves throwing away some of the year's fruit, it is justified by the fact that thinning achieves a more uniformed ripening and enhances the quality of the remaining fruit to be harvested.
Irrigation
Our "normal" rainfall is approximately 25" of rain per season. Due to thin, well-drained soil, we can control the root moisture during the growing season by a dual irrigation drip system. One portion of our dual system gives limited water to our vines planted hillside. A second portion of the system provides additional irrigation to those vines planted in the more shallow soils. The net result is that we can keep all our vines irrigated, but at the same time absolutely minimize the application of water so as to improve grape quality. Our dual irrigation system also gives a more uniform maturation which is one of our key winery goals.
We have incorporated a cover crop using native grasses to help retain our topsoil from being eroded by the rains. The grasses are also important to assist with better vine water management as the grasses extract the subsoils' moisture.