"One of the Napa Valley's
Best Winery Tours."
–Food & Wine Magazine.
Tasting Tours
A visit to Jarvis Estate is an extraordinary journey, like no other, into the world of exceptional winemaking. Visitors to the country's first winery built entirely underground are offered an intimate glimpse into the meticulous steps that go into producing our lush Chardonnays, rich Cabernet Sauvignons and velvety Merlots, among others.
We offer two tours. The Vintage Tasting, open to the public, and the Founders' Reserve Experience is available exclusively to Inner Circle members and their guests. Advance reservations are required for both.
The Vintage Tasting
Touring the 45,000 square foot cave is a unique experience and reveals how the Jarvis Estate approach to crafting world-class wines differs from what is found virtually anywhere else. The tour includes a visit to the Cuve Gallery, a collection of one dozen massive oak vessels assembled in the cave by French coopers and used to make certain the exceptional flavors developed in the estate vineyards are not compromised. The underground waterfall near the end of the tour ensures the steady cave temperatures and humidity that are vital to the Jarvis Estate signature style of extended aging in new French oak barrels.
Finally, guests have the opportunity to enjoy the rewards of these painstaking efforts. The tour concludes with an intimate, seated experience in our Tasting Chamber where visitors will sample six Jarvis Estate and Reserve Collection wines. Please allow 90 minutes for your visit in order to fully appreciate the truly distinctive Jarvis Estate.

The Founders' Reserve Experience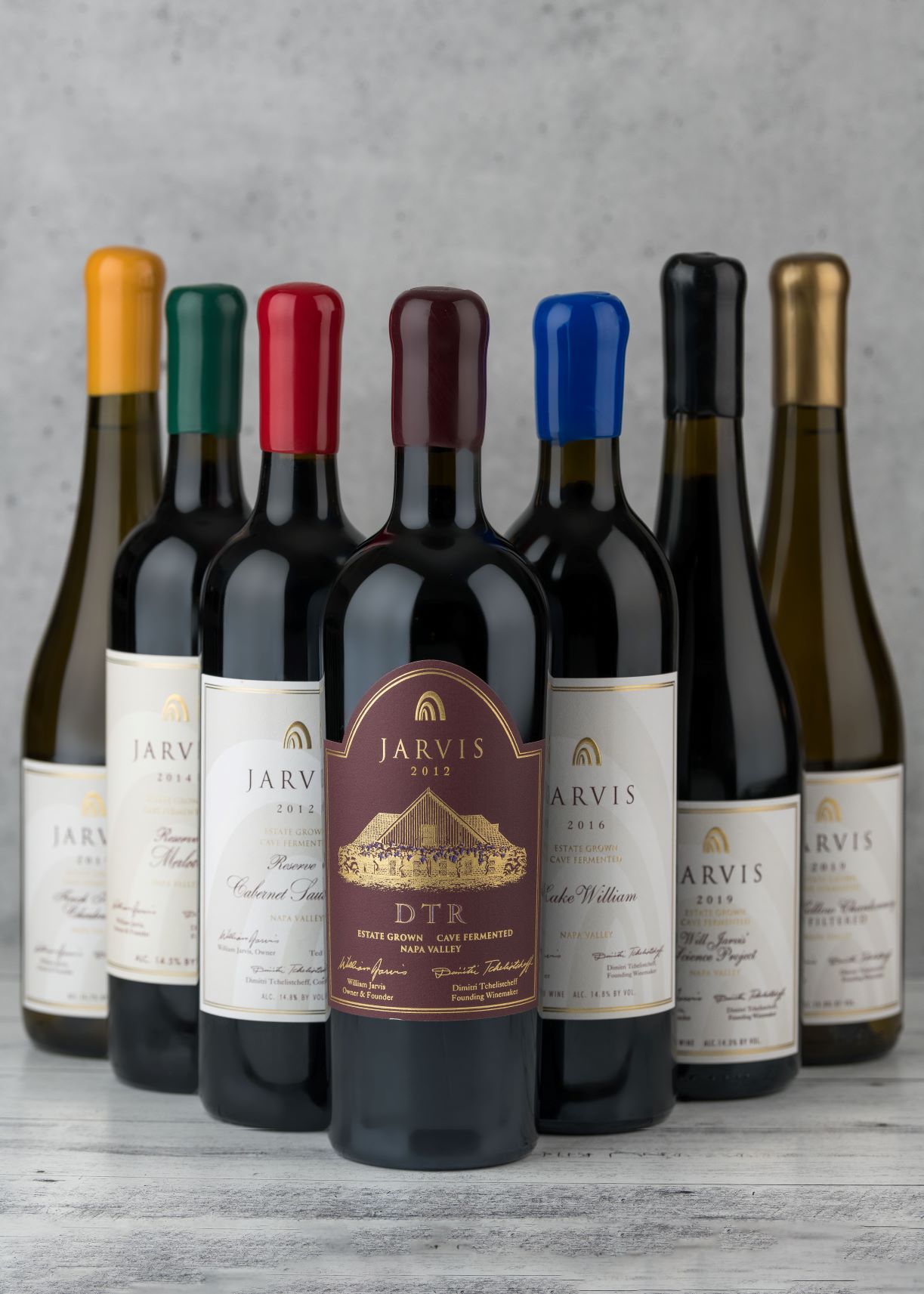 The Founders' Reserve Experience is our marquee wine tasting that is only available to Inner Circle members and accompanying guests. This offering exclusively showcases the most limited Reserve wines at Jarvis Estate and also includes a curated barrel tasting with the option to purchase futures.
The visit will last about 90 minutes and includes an abbreviated tour so there is plenty of time to enjoy the barrel tasting and our lineup of Reserve wines including the newly introduced DTR (Dimitri Tchelistcheff Reserve), Will Jarvis' Science Project, Lake William, Reserve Cabernet Sauvignon, Unfiltered Finch Hollow Chardonnay, and others, alongside a gourmet charcuterie board.

Please be advised that all experiences at Jarvis are for guests 21 and over as we are a working production facility. We cannot legally permit anyone under 21 on the tour and tasting.
We also recommend wearing footwear that is appropriate for walking throughout the cave facility and kindly remind our guests to exercise caution by watching their step during the tour.