October 10th, 2010
"Coming Out" party puts Jarvis wines on top of the world's best!
---
 World Class Tasting named "Judgment at Jarvis" article in the Napa Valley Register November 12th, 2010! "Coming out" party puts Jarvis wines on top of the world's best!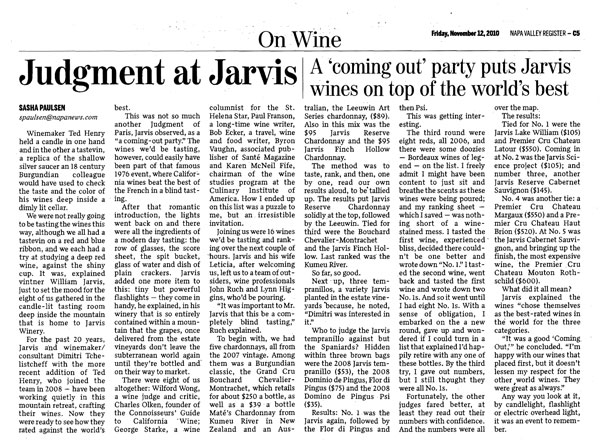 Click here for a PDF of this article 
 Ranking of World Wines by Professional Tasting Panel
Total Results shown below
(NAPA, Calif.) - The World Wine Tasting was an audacious comparison of the leading wines from five countries . This was not another Paris tasting but more of a "Coming Out" for Jarvis winery.
When the results were made known, William Jarvis commented, "It was a good 'Coming Out'. I'm happy with our wines that placed First but it doesn't lessen my respect for the other World Wines, they all were great as always."
For the past 20 years, Dimitri Tchelistcheff and William Jarvis have dedicated themselves to making world class wines. Until now they have kept a modest profile but for the first time are emerging from their mountain cavern to showcase Jarvis wines along with the very top wines from other countries of the world.
Three categories of wine were blind tasted, Bordeaux Blends, Tempranillos and Chardonnays. The wines in the three tasting categories came from France, Spain, Australia, New Zealand and the United States. The wine and their rankings are all shown below.
Wine Rankings by Tasting Panel

Bordeaux Blends

 

 Rankings

 

1

$105

Jarvis, Lake William, 2006

USA

1

$550

Premier Cru Chateau Latour, 2006

France

2

$105

Jarvis, Science Project, 2006

USA

3

$145

Jarvis, Cabernet Sauvignon Reserve, 2006

USA

4

$550

Premier Cru Chateau Margaux, 2006

France

4

$520

Premier Cru Chateau Haut Brion, 2006

France

5

$ 95

Jarvis, Cabernet Sauvignon, 2006

USA

6

$600

Premier Cru Chateau Mouton Rothschild, 2006

France

 

 

 

 

Tempranillos

 

 

1

$ 53

Jarvis, Tempranillo, 2008

USA

2

$ 75

Dominio de Pingus, Flor de Pingus, 2008

Spain

3

$ 35

Dominio de Pingus, Ψ Psi, 2008

Spain

 

 

 

 

Chardonnays

 

 

1

$ 95

Jarvis, Reserve Chardonnay, 2007

USA

2

$ 89

Leeuwin, Art Series Chardonnay, 2007

Australia

3

$250

Grand Cru Bouchard Chevalier-Montrachet, 2007

France

3

$ 95

Jarvis, Finch Hollow Chardonnay, 2007

USA

4

$ 39

Kumeu River, Maté's Chardonnay, 2007

New Zealand
 The World Tasting was held on Saturday, October 9th, here at Jarvis. The Tasting Panel composed of leading wine professionals from the industry.
Please click on the video below to watch the "World Class Wine Tasting" at Jarvis.
From left to right: Wilfred Wong, Beverages&more, Wine Critic, one of the most prolific and experienced wine judges in the U.S.,Charles E. Olken, Founder of Connoisseurs' Guide to California Wines, George Starke, Author of "Up and Down the Wine Roads", accomplished wine educator, Paul Franson, Contributor to many wine publications and author of Spinning the Bottle, Sasha Paulson, Award winning food and wine writer, features editor for the Napa Valley Register, Bob Ecker, Professional writer and photographer for travel, wine and cuisine, Byron Vaughn, Associate Publisher of Santé  and Karen McNeil Fife (not shown), Chairman of Wine Studies at CIA.
Jarvis, "a journey into the earth"...
The Jarvis wines are made totally underground in our 45,000 square foot cave, an eco-friendly facility that houses fully operational wine production and cooperage as well as the winery offices and hospitality space. The focus on quality begins in the selection of the vineyard micro climates. A total of 37 acres were cherry picked from the 1,320 acre Jarvis Estate. Limited-production, luxury wines that total less than 9,000 cases annually are the result of this commitment to world class wines.
To order wines from Jarvis, call 800-255-5280, fax 707-255-5282 (fax), or e-mail info@jarvis wines.com or simply click, ORDER NOW!
---